BTHV-Workshop Kinder- und Jugend-Rugby
-
Workshop Kinder- und Jugend-Rugby auf Englisch (mit Übersetzungen ins Deutsche) im Bonner THV
Workshop Children's & Youth's Rugby
(in English with translations into German) in Bonn
Lead Instructor: Andrew Fairhurst (andrew.fairhurst@t-online.de)
Co-Instructors: Michael "Tyke" Stevenson and Dirk Frase
Course Language: English (instructors are also fluent in German for clarifications)
Participant Objective
To be able to demonstrate basic officiating skills based on appropriate
theoretical knowledge & evidence of preparation & planning, and to be
able to officiate aspects of the children's and youth rugby games in a
modified context.

Children's & youth's rugby rules.
Improvement and amendment of the rules of the game.
Philosophy and CORE VALUES of rugby.
Explanation of the behaviours, conducts and attitudes expected from everyone involved in rugby, whether as player, coach, referee, parent or spectator.
What and how has a referee to communicate.
How does a match officer deal with tough and difficult situations.
How does a match officer referee a children's or youth's rugby game.
How does a match officer deal with children and young people.
Last day to submit pre-requisite Certificates to Lead Instructor (andrew.fairhurst@t-online.de): 25 February
Registration
Last day to register: 22 February (including pre-payment of course fees)
Point of Contact for Registration: Hugo Borella (rugby@bthv.de)
www.bthv.de/blog/rugby/
Cost: €30
Lunch: €10 (cash only in the club's restaurant)
Banking account for pre-payment of course fees:
Sparkasse KoelnBonn
BTHV, Bonner Tennis- und Hockey-Verein
IBAN: DE75 3705 0198 0000 0712 33, BIC: COLSDE33
Reason of the payment: "Workshop Children's & Youth's Rugby + name of the attendee"
Address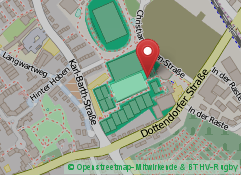 Bonner Tennis- und Hockey-Verein, Christian-Miesen-Str. 1, 53129 Bonn
Bring with:
full rugby kit including mouth guard
weather appropriate outdoor gear for all day outside activity
note taking material
a great attitude!!
Available for purchase at the course (cash only): Mouth Guard, Referee Whistle.
Course Pre-requisites
To demonstrate "evidence of preparation & planning" and to maximize the value of the on-pitch practical exercises, please complete the Course Pre-requisites:
Mandatory
Optional
Ort: Bonner THV, Christian-Miesen-Str. 1, 53129 Bonn